It is the main controlling part of GIS and power and control lines of auxiliary cables, Current and potential transformers, alarms, and circuit breakers are brought from GIS to the LCC module for control purposes. Each circuit breaker has one local control cabinet for its purposes.
These circuit breakers monitor the respective bays and are usually placed in the front of the bay.
Structure:
It is enclosed in a metal cabinet and its sheet if of steel. It is standing freely and has a lockable door with lights. It has control switches.
Other components:
AC Supply terminal
DC Supply terminal
Close and Open Switches
Grounding Switches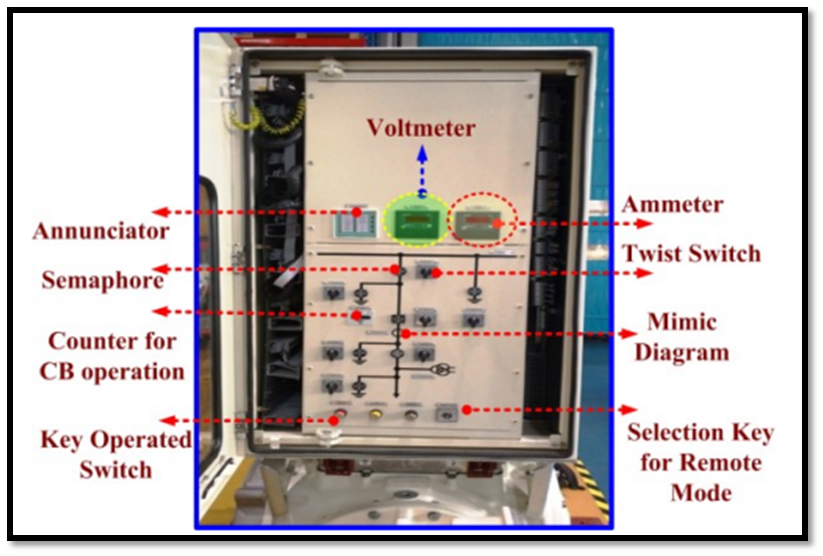 What are the interlocks provided in LCC of GIS?
The grounding switch for high speed is interlinked with its circuit breaker
The feeder grounding switch is interlinked with its own circuit breaker and disconnect switch.
Electrical and mechanical interlock is also provided. It is provided disconnect and grounding switch operation.
Modern Local Control Cabinet:
In the current time, we have a combination of LCC to achieve modern and intelligent switchgear substations. We have LCC for monitoring and for protection purposes. Intelligent control panels are also available for advancement in GIS and proper monitoring.
We have secondary functions in GIS such as control and measurement that can realize the data for analysis, online monitoring, interlocking, etc. Intelligent devices are more advanced and they replace the relays, contactors, and alarm lights that make their primary and secondary combination.
They measure the following parameters:
Bay voltage Signal
Bay current Signal
Voltage calculations
Current calculations
Power
Power factor
Fundamental frequency odd harmonics
We have a display system and it sends data via Ethernet. Ethernet is actually data rate for transfer data. So signal cables are reduced than traditional LCC