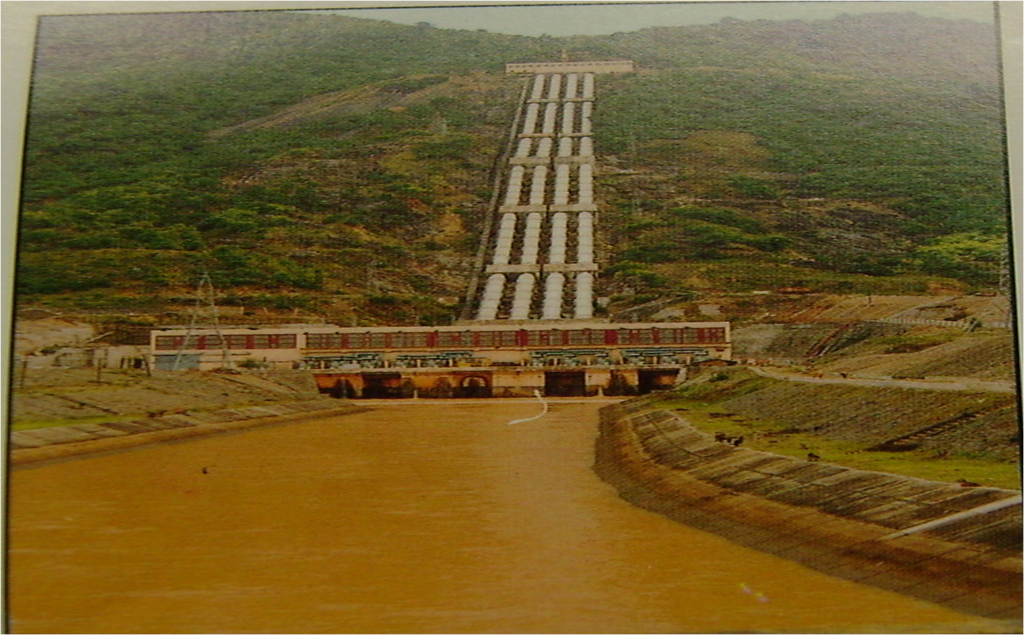 Hydropower Stations are used as a piece of machinery that directly converts the hydraulic power in a waterfall
to mechanical power on the machine shaft. In a hydro-electrical power station, a water head is created by constructing a dam across a river or lake. From the Dam, water is led to a water turbine. The water turbine captures the energy in the following water and changes the hydraulic energy i.e product of the head and flow of water, into mechanical energy at the turbine shaft. The turbine drives the alternator which converts mechanical energy into electrical energy.
1. UNDERGROUND POWER HOUSE AND UNDERGROUND TUNNEL.
2. SURFACE POWERHOUSE WITH PENSTOCK IN TUNNEL.
3. SURFACE POWERHOUSE WITH PENSTOCK ON THE SURFACE.
4. SURFACE POWERHOUSE WITH PENSTOCK BURIED 3.0 METERS BELOW THE NATURAL SOIL.
5. SURFACE POWERHOUSE WITH PENSTOCK BURIED AT ROCK LEVEL.
RAINFALL DATA:-
For the construction of any hydroelectric project, the essential requirement is the available head i.e. the differential reservoir level between the dam & powerhouse and the rainfall i.e. run off the drainage area/discharge of water.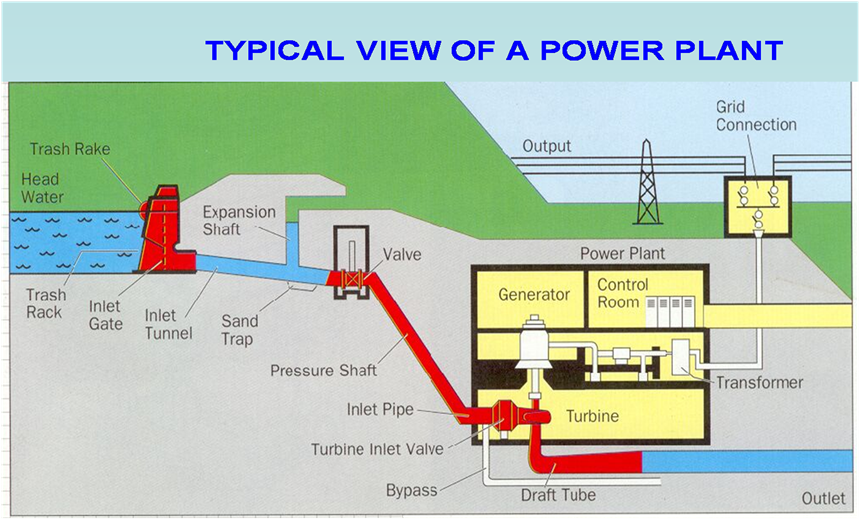 Reservoir:
The whole of the water available from the catchment area is collected in a reservoir behind the dam. The purpose of storing of water in the reservoir is to get a uniform power output throughout the year. A reservoir
can be either natural or artificial. A natural reservoir is a lake in high mountains and an artificial reservoir is made by constructing a dam across the river.
Dam:
The water intake is normally constructed in connection with an accumulation dam.
A dam is built across a river for two functions: to impound the river water for storage and to create the head of water. Dams may be classified according to their structural materials such as Timber, steel, earth, rock-filled and masonry.
Surge Tank
A SURGE TANK is a small reservoir or tank (open at the top) in which the water level rises or falls to reduce the pressure swings in the conduit.A surge tank is located near the beginning of the conduit. When the load on the turbine increases, additional water is drawn from the surge tank to meet the increased load requirement. Hence,a surge tank overcomes the abnormal pressure in the conduit when the load on the turbine falls and acts as a reservoir during the increase of load on the turbine.
 Penstock: Large pipes through which water flows from the reservoir to the turbine
Turbine: Turned by the force of the water on their blades
 Power Plant: Power generation and transmission
 Generator: Converts mechanical energy of turbine into electrical energy
 Control Gates: Control the flow of water
Limitations
Initial Construction Cost is very high.