The power system includes all parts of an electric system from power sources to customers.
The Function of the system is to generate power, transmit this power and distribute it to customers at voltage levels and reliability that are appropriate to various users.

VOLTAGE LEVELS
¢Generation: 11kV-25 kV
¢EHV Transmission: 500kV-765kV
¢HV Transmission: 132kV-400kV
¢Distribution system: 415V-33kV
A power plant is an assembly of systems or subsystems to generate electricity, i.e., power with economy and requirements.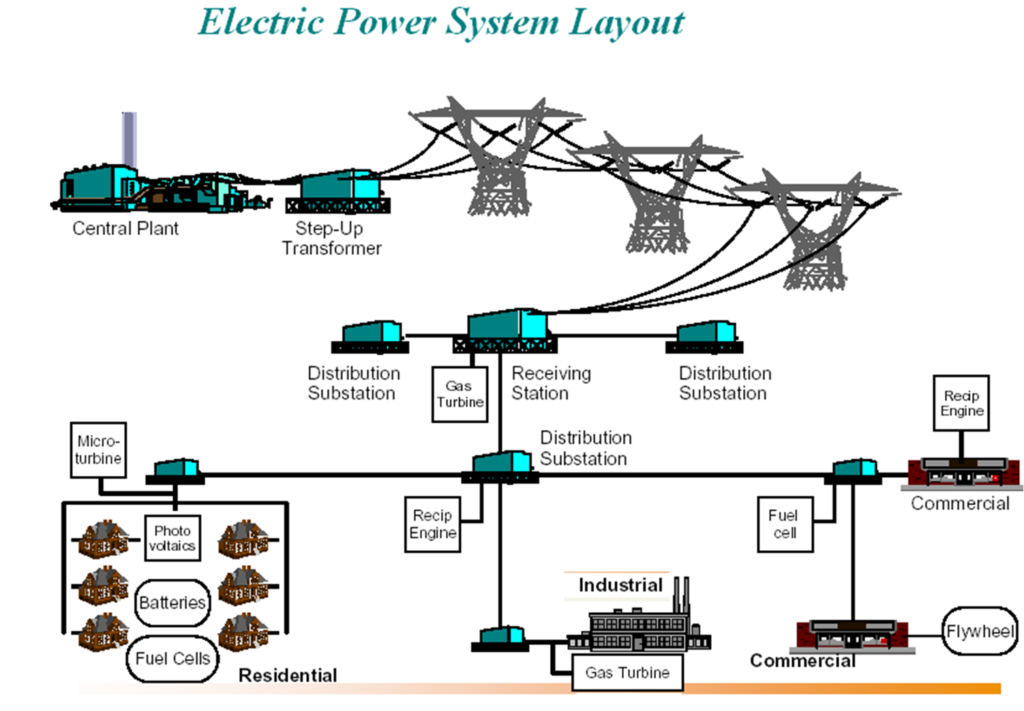 TYPES OF POWER GENERATING STATION
¢High-voltage networks, consisting of transmission lines, connects the power plants and high-voltage substations in parallel.
¢This network permits load sharing among power plants
¢The typical voltage of the network is between 132KV and 765 kV. The high-voltage substations are located near the load centers
ADVANTAGES
Reduces the volume of conductor material.
Increases transmission efficiency
Decreases percentage line drop
DISADVANTAGES
Increased the insulating cost of the conductors
Increased the cost of transformers, switchgear, and other terminal apparatus.
¢The distribution system has two parts, primary and secondary.
¢The primary distribution system consists of overhead lines or underground cables, which are called feeders.
¢The feeders supply the distribution transformers that step the voltage down to the secondary level.
¢The secondary distribution system contains overhead lines or underground cables supplying the consumers directly by single- or three-phase power.
POWER SYSTEM CHALLENGES
¢Power system analysis.
¢Power system planning.
¢Power system control.
¢Power system protection.
¢Power quality.
¢Load management.
¢Distributed generation integration
Objectives of Power System Operators
To supply Quality Power to the consumer.
Quality power: Maintaining the frequency and voltage within the limit
To supply a Reliable and Economical power to the consumer.
Most of the equipment in the power system is very expensive. To maximize the return from the system, the system must be protected from real-time damages that occur due to faults. In order to prevent loss of life and machinery due to faults various schemes are implemented in all the zones of the power system.