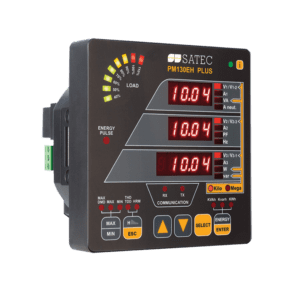 In this article, we will discuss the importance of energy meter in EHV Sub-Station.
There are a number of instruments for metering and indication in each substation such as watt meters, voltmeters, ammeters, power factor meters, kWh meters, volt-ampere meters, and KVARH meters etc. These instruments are used at different places within the substation for controlling and maintaining values of current and voltages. Sometimes these meters are not connected with proper matching CT and PTs.So for actual readings from meters multiplying factor is required.
Energy Meters is the most important instrument to account for energy imported/exported in a substation. In sub-stations, the cumulative reading of such energy meters is used for the calculation of the total Million Units (MUs) of energy imported/exported. On the basis of MUs, the total revenue by the Station is calculated. So the reading of the Energy Meter is important to be recorded, accounted and audited.
Communication is an additional advantage of the electronic meter. Communication can be possible through wired optical and wireless transmission.
Energy Meter takes voltage and current as input. Current and voltage input is extended through the metering core of the Current Transformer (CT) and the metering core of the Potential Transformer (PT). Based on this input, the energy meter calculates and displays the amount of energy imported/exported.
As per CERC and CEA guidelines, it is compulsory to provide 0.2S accuracy class metering system for all EHV
consumers.
The following energy registers are required to record them accordingly
(i) Active import
(ii) Active export
(iii) Reactive (inductive) while active import
(iv) Reactive (capacitive) while active import
(v) Reactive (inductive) while active export
(vi) Reactive (capacitive) while active export
(vii) Apparent import (based on the definition of apparent energy)
(viii) Apparent export (based on the definition of apparent energy)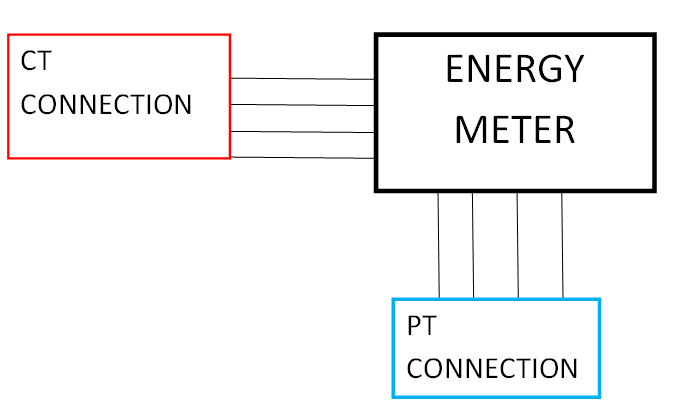 Calculation of Multiplication Factor of Energy Meters
Wh METER has Data in Nameplate.(Meter CTR-/1,Meter PTR=11KV/110V)
Suppose this meter is to be connected to a 33KV System of line CTR=400/1,Line PTR=33KV/110V,Then MF meter reading=(Line CTR/Meter CTR)X(line PTR/Meter PTR)XMeter MF
MF=400/1X300/100=1200(for Wh READING)