INTRODUCTION
Insulation Resistance is the resistance between two electrical conductors or two systems of conductors separated by an insulating material.
A high value of resistance means that very little current is escaping through the insulation. Conversely, a low value of resistance indicates a significant amount of current may be leaking through and along the insulation
Insulation resistance needs to be maintained at a safe value to prevent production loss and to protect against electric shocks to humans.
Why Insulation Resistance test is performed?
In order to check the quality of insulation when a product is first manufactured and after the prolonged use of the product. Performing such tests at regular time intervals can detect impending insulation failures before they occur and prevent user accidents or costly product repairs.
How Insulation Resistance Test is performed for the transformer?
The Megger insulation tester is essentially a high-range resistance meter (ohmmeter) with a built-in direct-current generator. This meter is of special construction with current and voltage coils, enabling true ohms to be read directly, independent of the actual voltage applied. This method is non-destructive; that is, it does not cause deterioration of the insulation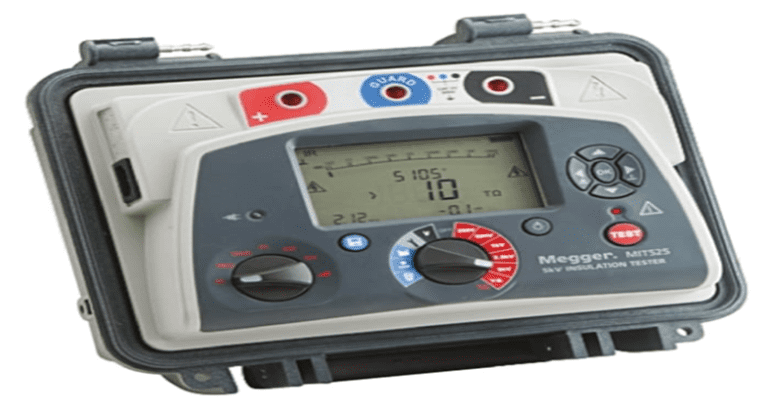 .
Digital Insulation Resistance Testers.
Apparatus Available
Hand-Driven Insulation Testers.
Digital Insulation Resistance Testers.
Multimeter Insulation Testers.
Digital Earth Insulation Testers.
Hand Cum Motorized Insulation Testers
TEST PROCEDURE
Isolate the transformer from the main supply and discharge after disconnecting all the phases.
Short the tester leads. Set the voltage range as per the data given in the table.
Identify the test points. Test between windings. Two winding transformers:(HV + LV) – GND,HV – (LV + GND),LV – (HV + GND)
Test between windings and earth as per the connection diagram mentioned in the figure.
Perform the test and record the result along with the measurement of temperature.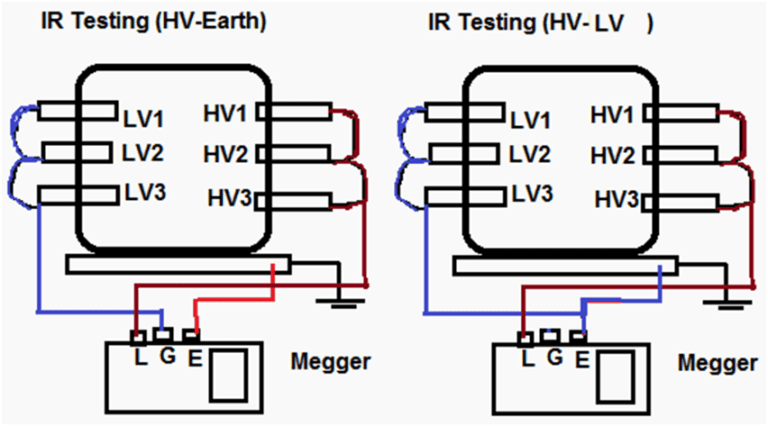 | | |
| --- | --- |
| WINDING RATED VOLTAGE | IR TEST VOLTAGE |
| <1000 | 500 |
| 1000-2500 | 500-1000 |
| 2501-5000 | 1000-2500 |
| 5000-12000 | 2500-5000 |
| >12000 | 5000-10000 |
IR TEST VOLTAGE
Work on de-energized circuits whenever possible. Use proper lock-out/tag-out procedures.
Don't touch any of the terminals during the test process.
IR Values for Transformer winding
IR Value (MΩ) = C X E (P-n) / (√KVA) Where C= 1.5 for Oil filled T/C with Oil Tank, 30 for Oil filled T/C without Oil Tank or Dry Type T/C.As per standard Insulation resistance should be approximately one megohm for each 1,000 volts of operating voltage.

TRANSFORMER WINDING VALUES IN MOHMS