A power distribution system is designed to deliver power from distribution substations to consumers at various voltage levels. The two measure criteria for power delivery are efficiency and reliability.
Objectives of 𝐏𝐨w𝐞𝐫 𝐃𝐢𝐬𝐭𝐫𝐢𝐛𝐮𝐭𝐢𝐨𝐧 𝐒𝐲𝐬𝐭𝐞𝐦𝐬
Better load regulation,
Increased flexibility,
Ease of Operation and maintenance,
Better power management
Electrical Energy is consumed by customers at a nominal utilization voltage that ranges generally (in India) 230 V for single phase and 440V for three-phase at 50Hz Frequency AC Supply,
It flows through an energy meter that measures the billing for the consumer, but which may also serve to gather information useful for future planning and upgradation.
The penetration of renewable energy sources in the distribution system as decentralized generation systems include net metering, energy storage, and electric vehicles (EVs). There has been significant progress toward the invest in smart grid infrastructure, smart meters, digital equipment, and advanced technologies. Extreme weather conditions such as cyclones and thunderstorms due to global climate change, add further challenges to the reliable operation of distribution systems. There is a lot of advancement in the distribution system in order to minimize the impact of these events.
ELEMENTS OF POWER DISTRIBUTION SYSTEMS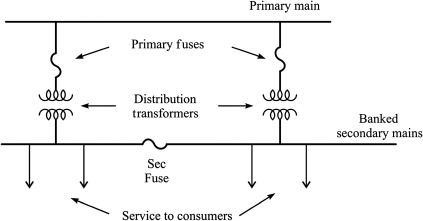 Primary Distribution Substations
Switchgear Type and Busbar Arrangement
Overhead Lines
Distribution Power Cables
Distribution Power Transformers-
Design consideration of the distribution system
Type of electric system(DC or AC), and if ac, single-phase or polyphase.
The type of delivery system: radial, loop, or network. radial systems
The type of construction: Overhead(Overhead distribution lines are usually supported by poles made of wood, though concrete and metal (steel and aluminum) )or underground.
Low cost, simplification, and standardization are all important design characteristics during the design of distribution systems.
The operations of the distribution system may be classified into four specific functions
Quality of service
Load shedding
Cogeneration
Demand control (or peak suppression)
The selection of these electrical elements in distribution systems depends on factors such as the specific distribution network design, load characteristics, environmental conditions, and safety regulations. Properly chosen and maintained elements are essential for the reliable and efficient distribution of electricity.