Definition
•Isolator is a mechanical switch that isolates a part of the circuit from the system when required. Isolators are used to open a circuit under NO LOAD conditions.
•Isolators are generally used on both ends of the breaker for safe repair or replacement of the circuit breaker. The construction and operating mechanism vary based on the voltage level at which isolating switch needs to be operated.
There is a need for proper installation, alignment, and maintenance of disconnecting switches of ratings for smooth functioning.
Types of Isolator
According to system requirements:
A. Horizontal Break
a. Double Break Isolator
b. Single Break Isolator (center break)
B. Vertical Break
C. Pantograph type Isolator.
According to the layout:
A. Single Isolator (SI)
B. Double Isolator (DI)
C. Beam-mounted
D. Off Set (Tandem) Isolator
E. Isolator with E/S, Double E/S, without E/S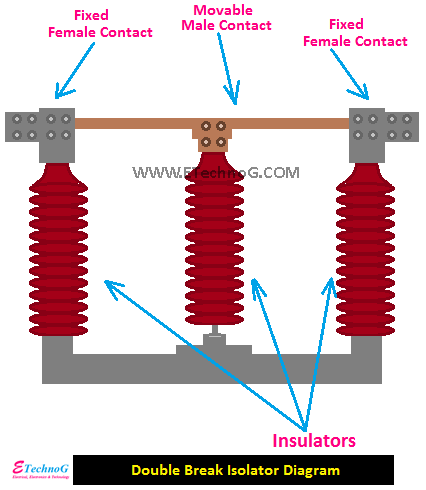 Parts of Isolator
Moving Contact
Moving Contact Arcing Horn
Copper Jaw
Lever Arm
Clamp
Male Contact
Jumper Pad
Insulator Stack
Elevator Plate
Base Channel