INTRODUCTION
Protection of generators is a challenging task because of their system is connected to the power grid, prime mover, and DC excitation.

Unlike other apparatus only isolating the circuit breaker is not enough to prevent further damage as the generator would still supply power to its stator windings until the excitation is suppressed. So for isolation, it is needed to open the field to avoid any excitation and to stop the fuel supply to the prime mover.
The collective function of all forms of protection applied to large generators is, therefore, to reduce the
clearance time of all fault conditions associated with it. It is of prime importance that the protective devices
should disconnect the machines automatically if the fault is internal or if the external conditions are so
abnormal that the continued operation would result in damage.
There are a number and variety of failures to which a generator may be subjected. Several protective systems
are employed, both of discriminative and non-discriminative types. Great care must be exercised in coordinating the systems used and the settings adopted.
GENERATOR PROTECTION SCHEMES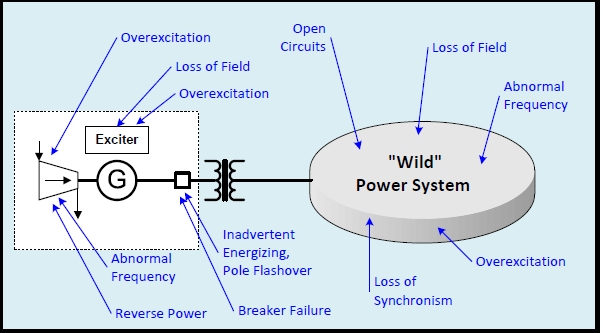 1.Stator ground fault protection
CAUSE:
Short circuit between winding. & core,
Inter-turn S/C
Mechanical Or thermal damage to winding. to Insulation.
EFFECT:
Further Insulation damage
2. Field ground fault detector protection
CAUSE:
Abnormal Mech. Stresses due to vibrations
Thermal stresses due to over-current, overheating.
EFFECT: Insulation damage.
3. Inter-turn protection
CAUSE: Inter-turn short circuit.
EFFECT: Insulation damage
4. Negative Phase sequence.
Cause: unbalanced loading
Effect: Double frequency component leading to overheat of rotor windings.
5. Generator Loss of excitation.
CAUSE:
Unintentional opening of Field Breaker.
Open circuit, short circuit in Field winding,
Fault in AVR.
EFFECT:
Induction Gen. Operation
Asynchronous operation,
Overheating of Stator & Rotor.
6. Generator Minimum Impedance.
CAUSE: Un-cleared system fault.
EFFECT: Voltage drop.
7. Generator Differential.
CAUSE: Internal fault. EFFECT: Insulation damage
8. Reverse power.
CAUSE: Failure of the prime mover.
EFFECT: Motoring, Damage to turbine blade
9. Over Frequency protection
CAUSE: Sudden loss of load, CB opens with turbine ON.
EFFECT: Over-speed, more centrifugal forces on rotating parts. Increase in vibrations & eccentricity.
10. Over-fluxing protection
CAUSE: Malfunction of AVR. Load throw-off with excitation changeover to manual. Under frequency operation.
EFFECT: Overheating of stator & transformer iron parts.
11. Over voltage protection.
CAUSE: Sudden loss of load at full load & rated power factor AND excitation changeover to manual with Gen. overspeeding.
EFFECT: Insulation damage.