INTRODUCTION
We have a good idea about substations, they are used for controlling, switching, protection and step-up or step-down voltages purposes for the transmission of electric energy. We have Air insulated and Gas insulated substations in general.
Background
Japan introduced Gas insulated Substation technology. Its research and development studies started in 1963 and first GIS was of 84 kV value in 1968. After that, they introduced 550kV in 1973.
Insulation material: We desire a substation of compact size and for insulation in GIS we used SF-6 Gas (Sulphur Hexa-fluoride Gas) over air used in air insulated substation. Because the insulating property of SF-6 is 2 to 3 times is more than air at a specific pressure.
Advantages of GIS:
It is used for:
High voltage installation
Urban Installation
•Clearances for GIS, roughly a tenth of that for AIS
•With GIS technology, the clearance needed for phase-to-phase or phase-to-ground for all equipment is much less than that of an AIS or air-insulated substation.
•The total space required for a GIS is roughly a tenth of that needed for a conventional AIS facility. While the conventional, AIS requires several feet of air insulation to isolate a conductor, SF6 gas insulation only needs inches, allowing a GIS facility to fit into areas far smaller than that of an AIS facility. A GIS is mainly constructed where real estate space is expensive or scarce.
Used for environment sensitive-
•GIS technology is a good choice to use in arctic or desert locations, as it can be enclosed in a building that is environmentally protected from extreme conditions.
•In addition to protecting the system components from extreme heat and cold, GIS technology encloses the electrical components within a Faraday cage which shields the system from potential lightning strikes.
Its initial cost is high but it is more beneficial than Air insulated Substation.
Disadvantages of GIS Systems
System cost is higher compared to that of a conventional AIS.
• Delivery of SF6 gas to the site can be problematic.
• GIS substations are indoor type, requiring a separate building.
• System cleaning/maintenance is critical to reducing conductive particle contamination.
• Particle or moisture contamination inside the compartment causes flashovers.
• Outages can be extremely long, and the damage to the system will normally be severe following a fault condition at a GIS substation.
• Access to live parts for maintenance is more problematic, and harder to diagnose without gas reclamation and disassembly of the modules.
Types of Equipment Modules in GIS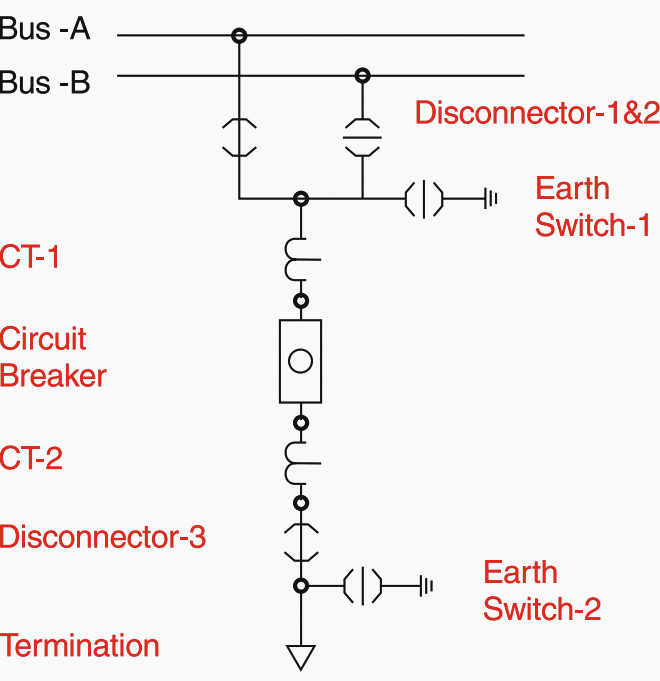 GIS systems are assembled from standard equipment modules.
Types of modules include:
• current transformers
• voltage transformers
• disconnector switches and ground switches
• interconnecting bus
• surge arresters
• Cable connections to the rest of the electric power system
local control cubicle