INTRODUCTION:-
Fire is the prime element of destruction. The damage caused by Fire is continuously increasing and no installation is free from the risk of fire. The purpose of fire protection measures is to prevent fire and to limit the extent of fire damage.
There are various types of fire extinguishing systems based on the type of fire and the fuel for combustion.A few of them are discussed below in this article.
CARBON-DIOXIDE EXTINGUISHING SYSTEM:
There are two general methods of applying carbon dioxide to extinguish a fire.
This creates an inert atmosphere within an enclosure in which the hazard is located. This inert atmosphere in the enclosure is maintained for some time till extinguishment is completed. This method is used in Generators.
In this method, carbon-di-oxide is applied to the affected area and no enclosure is needed around the hazard. The carbon-di-oxide engulfs the affected area completely and the period of discharge should be sufficient to completely extinguish the fire without any possibility of re-ignition. Discharge time should be at least 30 seconds. Ex–portable CO2 fire extinguisher. This method is used in the Main control room, UCP floor, Turbine floor, Switchyard control room, Valve house control room, etc.
EMULSIFIER TYPE FIRE PROTECTION SYSTEM FOR TRANSFORMERS:
The term "EMULSIFIER" refers to the use of water that has a pre-determined
Pattern, a particular size, velocity, and density. The water is discharged from specially designed nozzles.
Smoke detectors operated an automatic atomized water spray system for the protection of the cable spreading room.
In the hydrant system, water under pressure (7.0Kg/cm2) is available in the cabinet. By opening the outlet valve and using a pipe water under pressure can be applied manually to the affected areas.
For more related to fire detection please visit https://www.electricalvolt.com/category/automation/fire-and-gas-system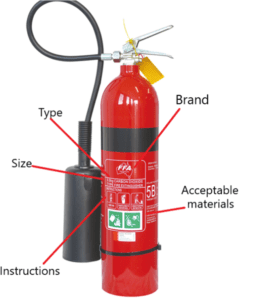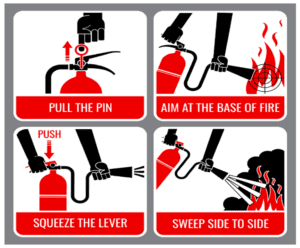 How to use a fire extinguisher
Precautions against Starting of Fire
•Portable fire fighting sets and fire hydrant locations should be avail
•Removal of rubbish, packing wood items from the site
•Special care to no smoking, no warming up the fire, no loose connection of cables
•Training of personal and rehearsals for electrical safety
•No storage of inflammable in the general store