This electrical Busbar training course introduces basic safe operational and field diagnostics of busbars with a focus on safe operation, testing, and maintenance of normally installed in substations.
What is busbar in substation?
Busbar is a system where all incoming and outgoing feeders, lines, and transformers are connected through an isolator and breaker.
The selection of any busbar system depends upon

Amount of flexibility required in operation.
Immunity from the total shutdown.
The initial cost of the installation.
Load handled by the busbar.
Different Configurations of bus-bar system
Single busbar
Main and Transfer Bus
Double Busbar.
Ring mains system
SINGLE BUS-BAR

Single Busbar
Main and Transfer Bus
With this arrangement, all the feeders are normally on the Main Bus Bar. If at any time, a Line Circuit Breaker/ Transformer circuit breaker Maintenance is required or breakdown of a Circuit breaker or CTs, that particular feeder/ transformer, can be transferred onto the Transfer Bus. The feeder protection thus gets transferred to the trip Transfer Bus Coupler Breaker. On fault occurrence or maintenance, the entire bus becomes de-energized.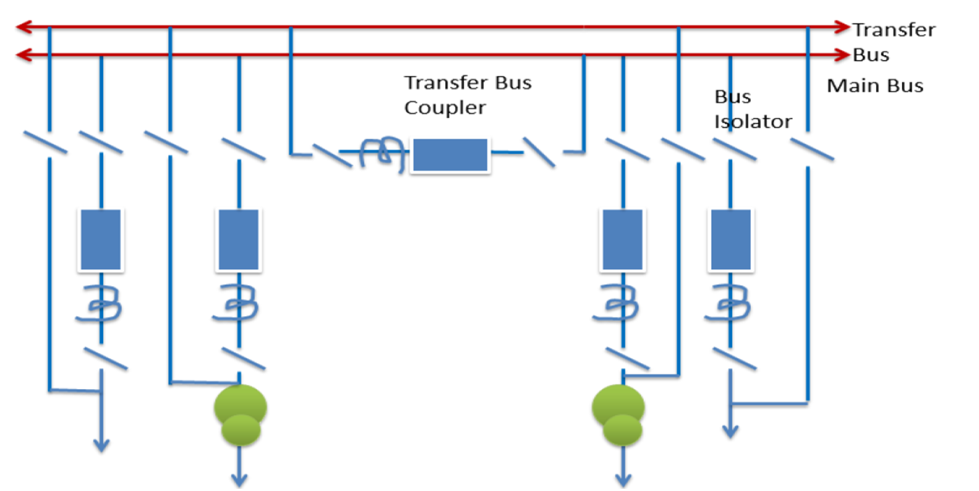 Two main or Double Bus
There are five types of Bus switching schemes double bus bars
Double busbar system.
Double bus with sectionaliser system.
Double bus & transfer bus system.
Double bus & transfer bus with sectionaliser system.
One & half breaker system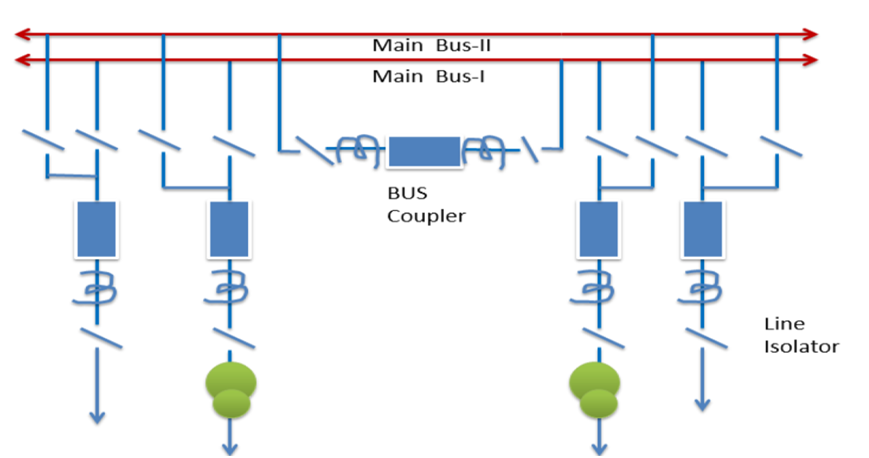 Two main busbar system
Ring Main Bus System
The schematic diagram of the system is given in the figure. It provides a double feed to each feeder circuit, opening one breaker under maintenance or otherwise does not affect the supply to any feeder.
major disadvantage
One as it is a closed circuit system it is next to impossible to extend in the future and hence it is unsuitable for developing systems.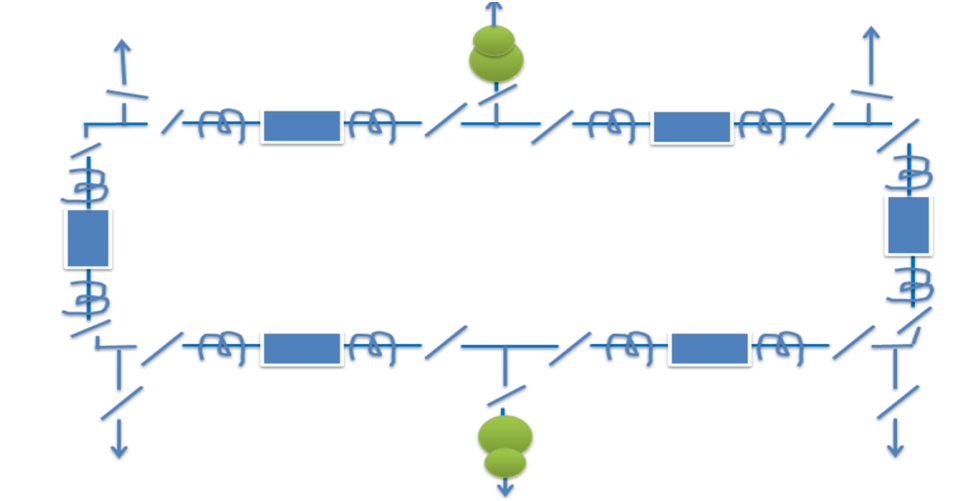 Types of Bus Bar
Rigid Busbar
In the rigid type, pipes are used for bus bars and also for making connections among various equipment wherever required.Since the bus bars are rigid the clearances remain constant.Due to the large diameter of the pipes, the corona loss is also substantially less.
strain type bus bars
The strain-type bus bars are an overhead system of wires strung between two supporting structures and supported by strain-type insulators.
The stringing tension may be limited to 500-900 kg depending upon the size of the conductor used. These types of busbars are suitable for earthquake-prone areas.
Electrical safety clearances
The various clearances need to be defined.
Phase-to-earth clearance.
Phase-to-phase clearance.
Sectional clearance.
Ground clearance.
Equipment to equipment spacing